Marriott Orlando World Center
Wanting to ensure the safety of all those involved, including members, advisors, staff, exhibitors, and other stakeholders, in addition to the President's tweet to school districts regarding limiting group gatherings where "grades mix" and Governor DeSantis asking that group gatherings be canceled, the Executive Committee of Florida HOSA has taken the difficult and unprecedented action of canceling the 2020 Florida HOSA State Leadership Conference.  Because of the on-going uncertainty of the situation, especially regarding school/school districts closing, no competitive events will be run.  Jonathan Parks, who works on Florida HOSA's behalf with the conference hotels, will be reaching out to them with this decision.  The State Office will be reaching out to the State Officer candidates to inform them on how we will proceed.  The Florida HOSA State Office will be refunding all registrations as quickly as possible; thank you for your patience and understanding as we work through this.
Would you like to help spread awareness of the health professions and help enhance leadership skills?  Then we invite you to get involved in HOSA!  We are looking for volunteers to serve as judges for our Competitive Events at the State Leadership Conference.  These events are designed to motivate HOSA members to study, work hard, and achieve a high standard of excellence in a variety of leadership and skill disciplines.  There are many different events from which to choose for judging. Please take a look at the Competitive Event Judge Signup document for more information.  This is a very rewarding experience and we thank you in advance for volunteering your expertise!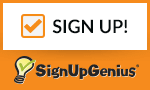 From 9:00 a.m. – 4:00 p.m. on Friday, April 3rd we will have the Expo & Career Fair at the Florida HOSA State Conference.  During this time, our advisors and members will be able to meet with Florida HOSA's Expo participants from Health Care Industry, Publishers, Colleges and more.  If you are interested in reserving a space, please download the Sponsorship Policy and the Expo Sponsorship Registration Form and send the completed form to the Florida HOSA State Office so it is received on or before February 28th.
The documents below will help your Chapter get registered for the State Conference, along with being your guide to fun!  The "Cover Letter" and "SLC Online Registration Info and Instructions" offer more thorough information about participating in the State Leadership Conference.  Be sure to check out the "IMPORTANT DEADLINES" document, in addition to all the other files listed below. 
Start making plans now to attend the highlight of the Florida HOSA Year –
our 43rd Annual State Leadership Conference!
SLC 2020 – Marriott Orlando World Center, April 2 – 5
SLC 2021 – Marriott Orlando World Center, March 25 – 28
SLC 2022 – Marriott Orlando World Center, April 9 – 12
SLC 2023 – Marriott Orlando World Center, April 13 – 16
SLC 2024 – Marriott Orlando World Center, April 4 – 7
We want to thank our following 2020 SLC Platinum Sponsor for their support of our organization!
As well as our 2020 SLC Silver Sponsors!